How do I dispose of a milk carton?
The tranquil days of milk bottles and direct delivery and collection from the doorstep are largely history. As early as 1943, the chemist Erik Wallenberg developed a packaging consisting of cardboard and a plastic coating that was ideal for transporting and storing milk.
The materials used have changed only slightly over the years. The milk carton used at NordseeMilch is made of 75% cardboard and has an outer and inner LDPE (low-density polyethylene) coating. The certified cardboard is sourced from sustainable, renewable sources. LDPE is very soft and temperature resistant.
The most important thing, however, is that LDPE is physiologically harmless and does not release any substances that can be metabolised in the human body. This combination of materials ensures that the milk is impermeable to oxygen and light, keeping it fresh for longer. The screw cap and the associated practical aspect of resealability have played a large part in the success of today's milk packaging. The lid is made of a mixture of HDPE (high density polyethylene) and LDPE.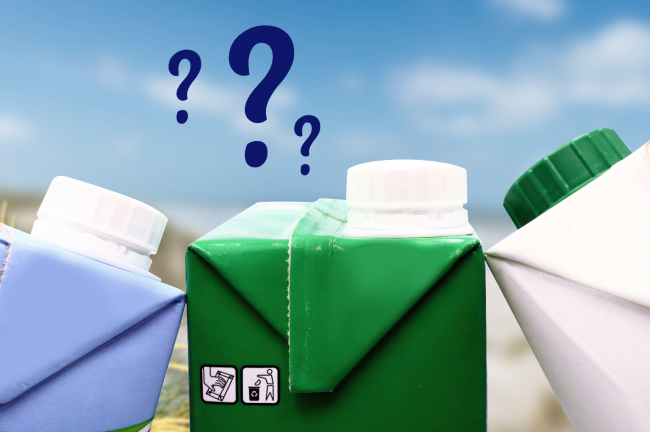 Dispose of milk packaging correctly? Here's how!
Dispose of milk packaging correctly? The milk packaging can be folded up in a few easy steps to save space. Simply open the screw cap briefly, press the package inwards on the left and right and then press the entire package together flat. Then fold the bottom forward and close the screw cap again. It is disposed of together with the milk carton in the yellow bin or the yellow bag, not in the paper bin or in the residual waste.
Under this link you will find a video that explains the cycle "collecting, sorting, recycling" in an illustrative way.
Recycling bin as a basis for recycling
A milk carton must be disposed of via the yellow recycling bin or the yellow bag. In addition, it is of course also possible to hand them in at local recycling centres. Since 1991, used beverage cartons have been recycled in Germany and returned to the materials cycle.